The North Lake Seventh-day Adventist Church began services at the current location on February 28, 2009. With a current membership of approximately 160 people, we are looking forward with eager anticipation to the day when Christ will come and claim his own.
We were blessed to have pastor Norman Bassett and his wife Patricia as our interim ministerial team. Pastor Bassett served many years in the Adventist denomination before retiring to sunny Florida, and joined our fellowship and served as our head elder under the direction of former pastor Bradley Galambos. Since the death of pastor Galambos, pastor Bassett has been providing our pastoral leadership.
Norman has a burden to show the world a clear picture of who God really is, and you will be inspired by his sermons to get to know God better than you have ever known him before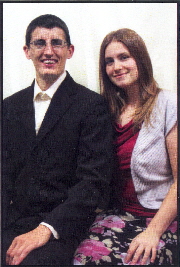 Jesse Dian is our "Bible Worker", and his wife Cindy leads out in our choir. If you would like to study the scriptures with somebody, Jesse would be glad to help you find a Bible companion.
Recently, Jesse and Cindy were blessed with a new son, who we affectionately call "David, son of Jesse".